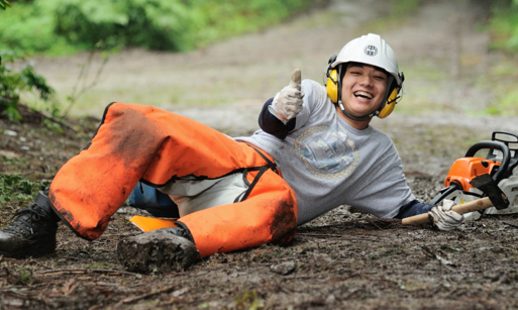 Wood Job!
WOOD JOB!(ウッジョブ) ~神去なあなあ日常~ (Wood Job! Kamusari nana nichijo)
Having flunked his university entrance exams, 18-year-old Yuki Hirano (Shota Sometani) abruptly decides to leave the city behind to take part in a one-year forestry programme, swayed not by a passion for all things lumberjack-related but simply the attractive girl on the programme's brochure (Masami Nagasawa). Knowing little of what lies ahead, Yuki winds up in rural Kamusari, a small village deep in the mountains. Far, far away from convenience stores or mobile phone reception and facing an entirely new way of life, he begins to find out that the job is a lot tougher than he imagined.
Wood Job! is a coming-of-age story by Shinobu Yaguchi, the director behind the Japanese box office smash hits Waterboys and Swing Girls. The film is based on the novel by popular author Shion Miura, a story which touched on ancient mythology and Japanese legends and has even drawn praise from Studio Ghibli animation filmmaker, Hayao Miyazaki.
Showing at: ICA, London; Watershed, Bristol; Showroom Cinema, Sheffield; QUAD, Derby; Dundee Contemporary Arts, Dundee; mac birmingham, Birmingham; Tyneside Cinema, Newcastle upon Tyne; Brewery Arts Centre, Kendal, Cumbria; Broadway Cinema, Nottingham.
Distributor: TBS (Tokyo Broadcasting System)
Director: Shinobu Yaguchi
Shota Sometani, Masami Nagasawa, Hideaki Ito
2014, 116min, English subtitles