We've temporarily moved online this year – but this isn't goodbye to theatrical venues.
In the meantime, if you wish to show support for our long term cinema partners around the country, please click on their corresponding logos below. We are hoping to return to their screens in 2022.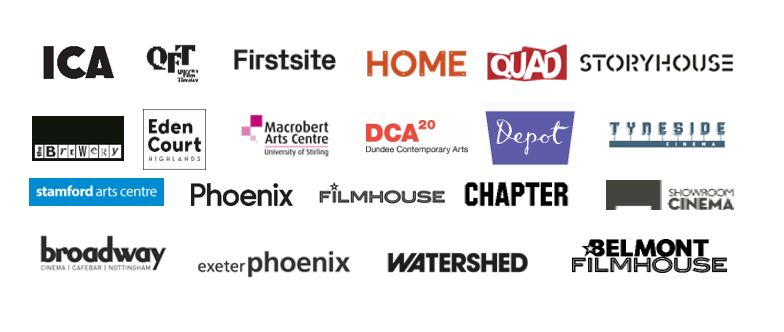 Posted on: 27 January 2021
Wrapped Up: A Report of the Japan Foundation Touring Film Programme 2021 (JFTFP21) Online Special
The much anticipated Japan Foundation Touring Film Programme 2021 Online Special  finished its 3 week-run on 10 March. Streaming 18 of the latest and some of the most talked about Japanese films, over 7500 tickets were released and booked by eager audiences across the UK. Due to the speed of the ticket reservation being so fast (85% of audience members had viewed more than one film as part of the season) there was some disappointment for late comers who unfortunately could not secure any tickets and we are very sorry if you couldn't watch the work you had looked forward to. In addition to the streaming, we have invited many directors to participate in related virtual events including SUETSUGU Naruhito (Haruka's Pottery), AMANO Chihiro (Mrs Noisy), HAGA Takashi (Me & My Brother's Mistress), INUDO Isshin (Samurai Shifters), SHINADA Shunsuke (Little Miss Period), MURAHASHI Naoki (Extro), MARIKO Tetsuya (Miyamoto), and SOTOYAMA Bunji (Soiree).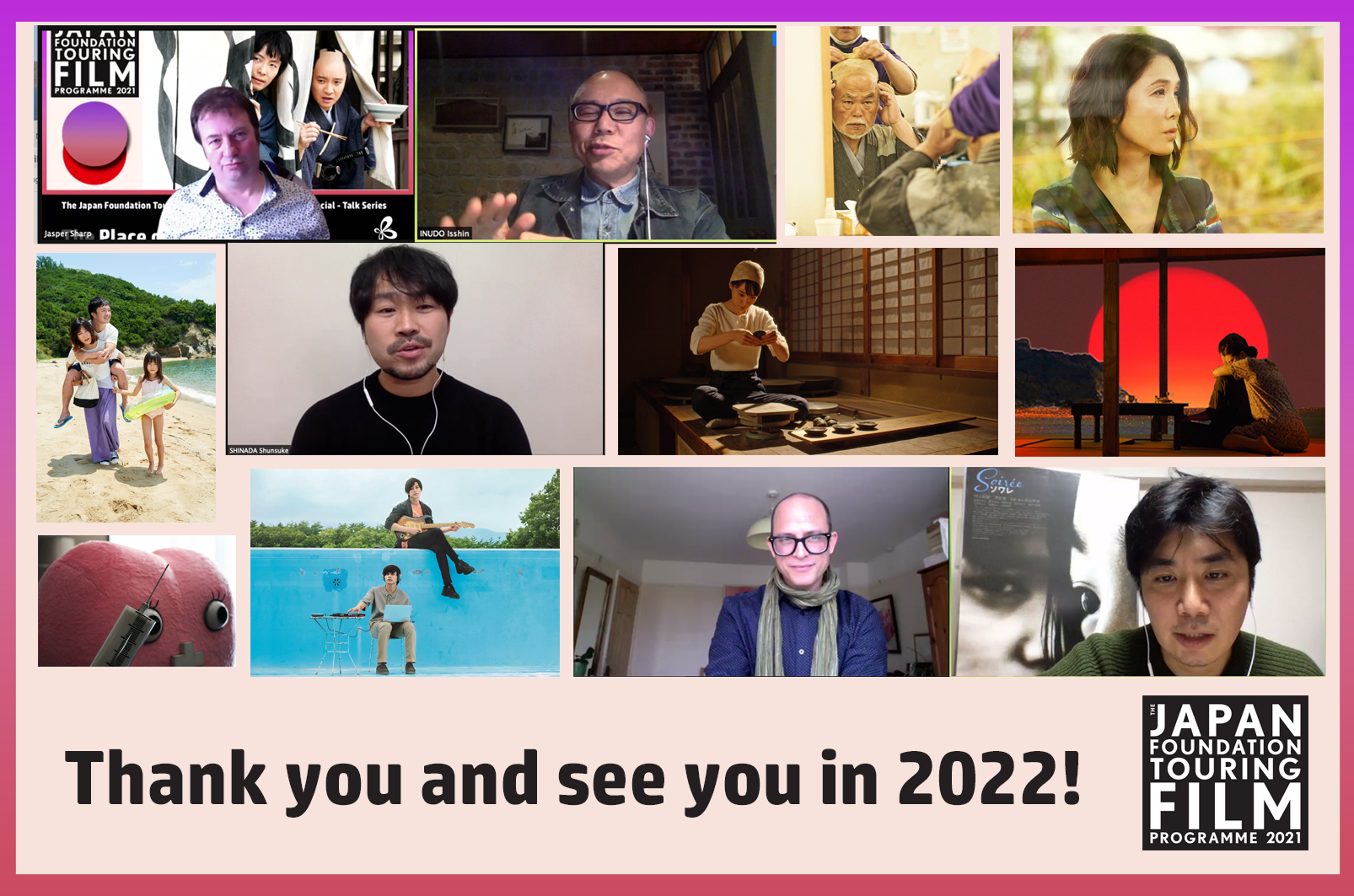 (clockwise from top left: Jasper Sharp; director INUDO Isshin; still from 'Extro'; still from 'A Girl Missing'; 
still from 'A Beloved Wife'; director SHINADA Shunsuke; still from 'Haruka's Pottery';
still from 'Labyrinth of Cinema'; still from 'Little Miss Period'; still from 'Our 30-Minute Sessions';
Jason Danely; director SOTOYAMA Bunji.)
All the screenings as well as talks were very well received with positive feedback and approx. 80% of audiences rating the work they saw as either 'Very Good' or 'Good' (the rating varies from title to title). Among these, the highest rating received was for the title his with 98% of people having felt that the work was 'Very good' or 'Good'; this was followed by Mrs Noisy which received 96% in the same categories. The least favourite work seems to have been Miyamoto, however, there were as many positive comments as negative ones so it appears that this is the work which split the people's opinion. You either loved it or hated it.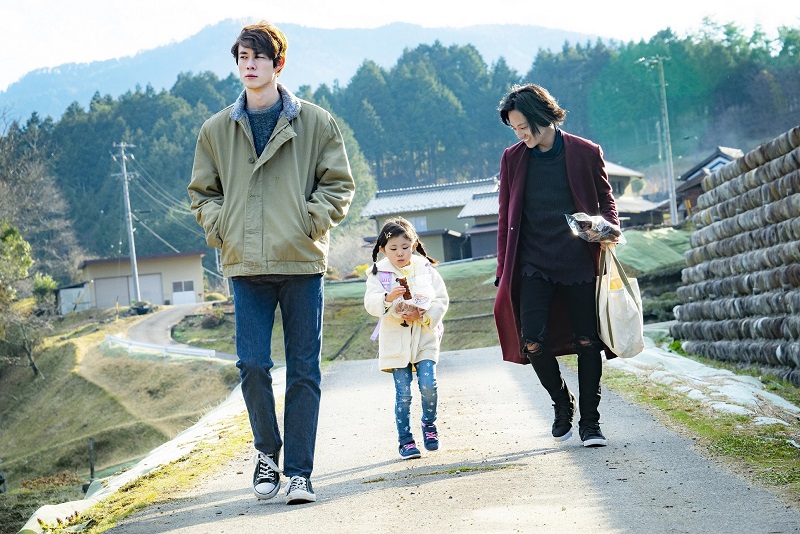 © 2020 映画 「 his 」 製作委員会
Which film was your favourite?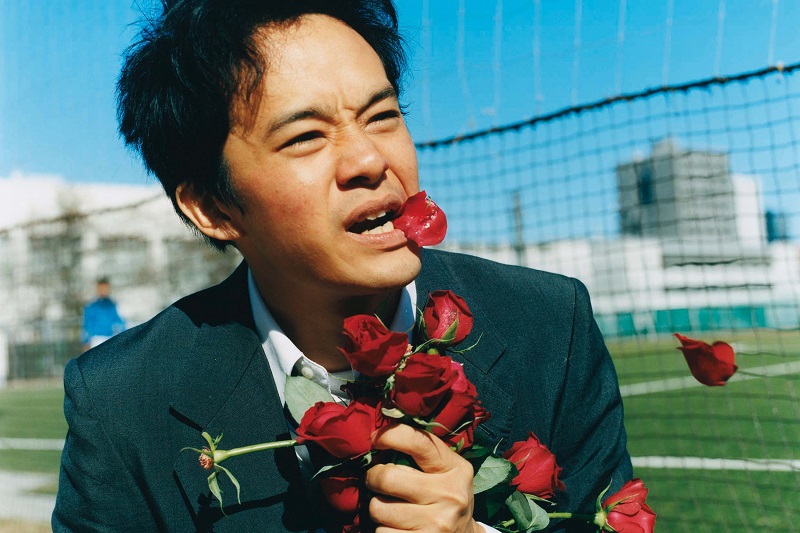 © 2019 "Miyamoto" Film Partners
Our efforts to not waste any of the viewing opportunities were echoed by many people who were conscientious about returning their unwanted or unused tickets and we thank them for their corporation. However, none of the films in the line-up were streamed to their full viewing capacity and the film with the lowest attendance rate (ticket number booked vs the completed streams number) was Labyrinth of Cinema which may have been due to the longer than standard length of the film. A three-hour-long film may not suit some people's schedules. The most watched film was A Beloved Wife followed by Me and My Brother's Mistress.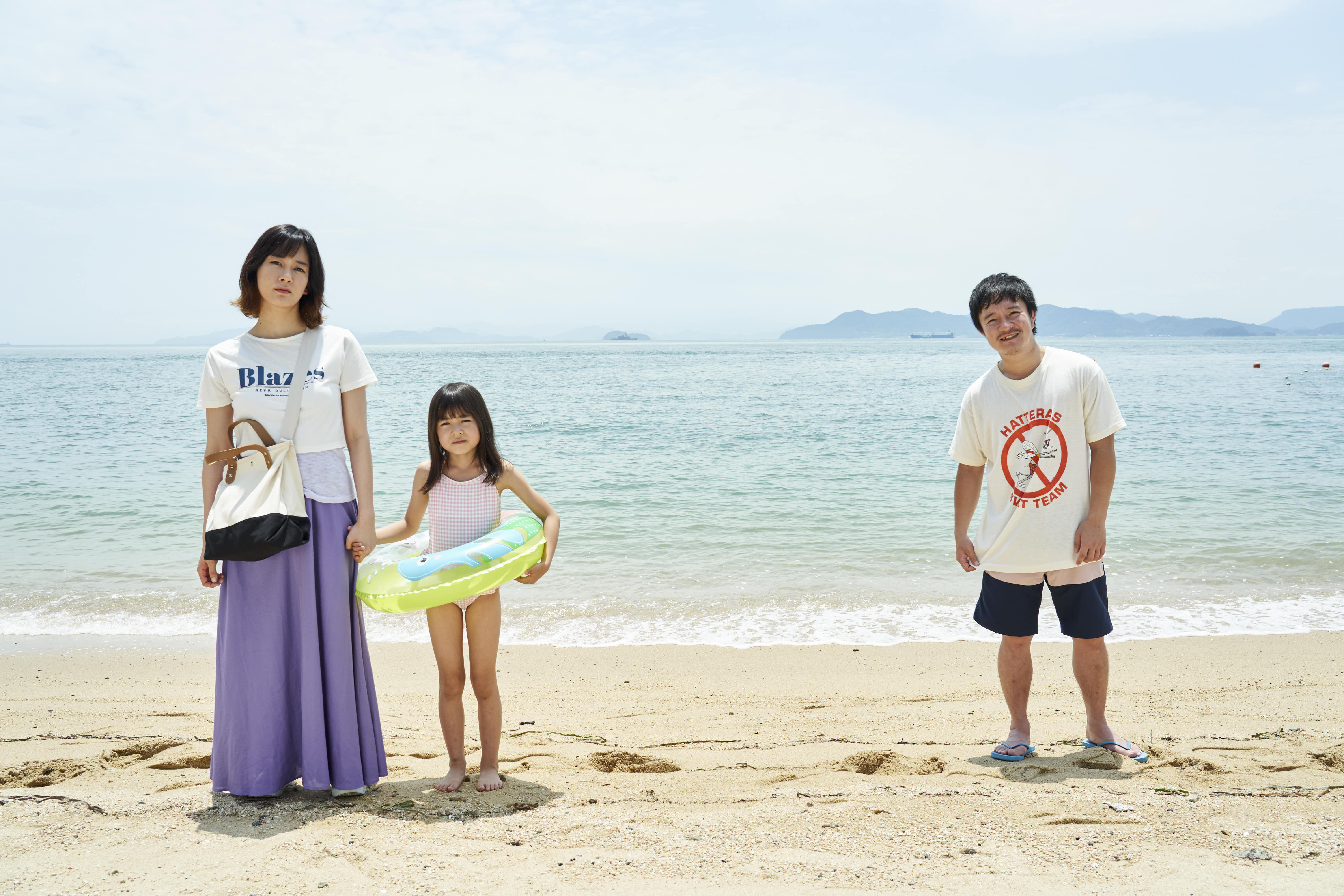 A Beloved Wife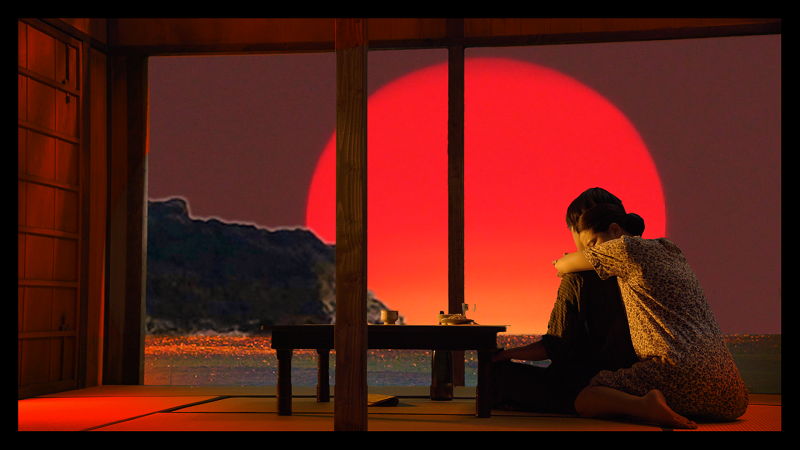 Labyrinth of Cinema
Hosting the Japan Foundation Touring Film Programme online was less than ideal in many ways: we believe working with UK partner venues is of paramount importance and watching films at the cinema reflects the directors' intended viewing format as well as enhances the audience experience. Audiences have certainly been deprived of the opportunity of meeting like-minded film lovers, laughing and crying together at a theatre viewing. In addition, technical issues caused obstacles for some viewers (though these were sadly beyond our control).
On the other hand, there are many positive aspects to running this programme online; the most significant one is giving an opportunity for those people who live in an area outside of the reach of our usual touring film programme regional partner cinemas. Around 20% of surveyed audiences belong to this group. Additionally, this online edition created a category of completely new attendees of the programme with 35% of surveyed viewers attending screenings as part of the programme for the very first time.
We are unsure if UK-based cinemas will be ready to open for our next annual touring film programme. A great number of people commented that they would like to have the at least part of the programme online. We will certainly look into it carefully but, in the meantime, please continue to support the Japan Foundation Touring Film Programme and our partner venues. Your backing will help us keep going! Thank you for attending and see you next year.
Here's what some of our audiences had to say:
"Thank you for organising this online cultural festival, it does make me more and more curious about visiting Japan."
"Excellent season uplifting during lockdown, thank you."
"Thank you again for the opportunity to see this film and please keep the film festival online in future so that those of us who live outside large metropolitan areas have the opportunity to learn more about Japanese culture."
"Thank you for providing the films for free this year! Collectively, the films present Japanese cinematic culture and creativity to the world in a positive light. This demonstration of the film industry's deep cultural resources and long heritage of creating a diverse range of outstanding films, reflects extremely well on Japan as a whole and plays an especially important role in maintaining the country's high international cultural profile to the rest of the world."
"I think the Foundation did a very good job in adapting to the lockdown. Well done everyone!"
And some comments from media coverage:
Noel Megahey (The Digital Fix, website)
"Bringing contemporary, classic, documentary and anime features every year to all parts of the UK, out of necessity the Japan Foundation Touring Film Programme went online for the first time in 2021 and showed all its films for free. Despite registration and other technical measures having to be put in place to ensure rights protection, the process worked fantastically well and brought to a wider audience another fine selection of international cinema that otherwise would be difficult to see. It also provided an opportunity to attend some informative Zoom conference talks with directors on their films and on the themes they approach in their work, giving some idea of where they fit in the diverse world of contemporary Japanese cinema."
https://www.thedigitalfix.com/film/feature/the-japan-foundation-touring-film-programme-2021-part-1/
James Balmont (Dazed, website)
"With independent cinema from Japan able to penetrate the UK with greater effect than ever before thanks to the efforts of Third Window Films, The Japan Foundation and even streaming platforms like MUBI, maybe it's time for Western critics to call it how it is: a new golden age of Japanese independent cinema, where filmmaking itself reigns supreme."
 (about Extro)
https://www.dazeddigital.com/film-tv/article/52041/1/films-about-filmmaking-revolutionising-japanese-cinema-extro-naoki-murahashi
Hayley Scanlon (Windows on Worlds, blog)
"A stylistically interesting take on the band movie with a fantastic soundtrack of convincing college rock hits, Our 30-Minute Sessions is a classic coming-of-age drama but one dedicated perhaps less to the art of moving on than to that of moving forward adding new notes to an ever expanding symphony of life."
(about Our 30-Minute Sessions)
https://windowsonworlds.com/2021/02/28/our-30-minute-sessions-%e3%82%b5%e3%83%a8%e3%83%8a%e3%83%a9%e3%81%be%e3%81%a7%e3%81%ae30%e5%88%86-kentaro-hagiwara-2020/
Posted on: 30 March 2021
No festivals or screenings to display
No events or talks to display
No new releases to display