It Only Happens in the Movies?
Japanese Cinema and Encounters
30 January to 26 March 2015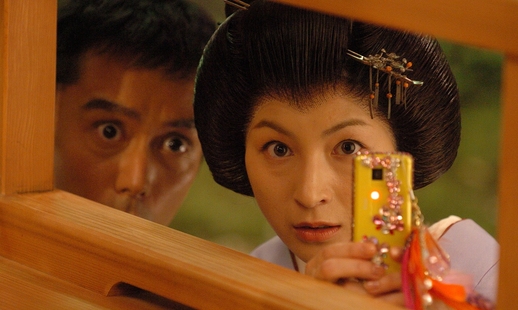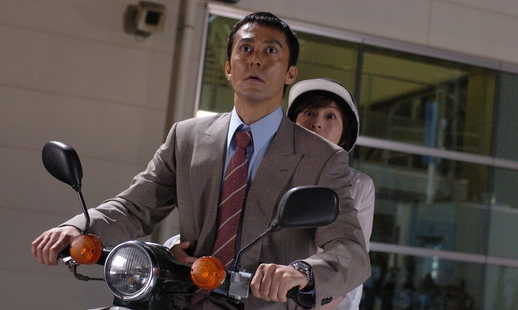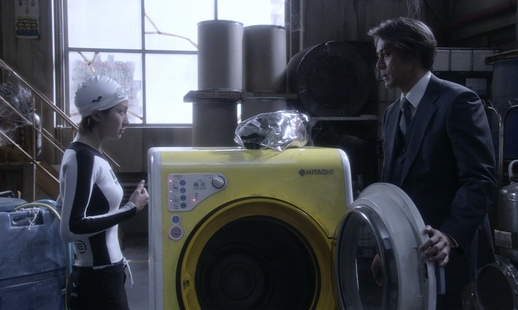 Bubble Fiction: Boom or Bust
(Baburu e go!! Taimu mashin wa doramu-shiki)
Mayumi, a ditzy bar hostess, returns to 1990 via a time travelling washing machine in an attempt to prevent Japan's 'bubble' economy from bursting.
Showing at: ICA, London; Showroom Workstation, Sheffield; Tyneside Cinema, Newcastle upon Tyne; Broadway, Nottingham.
With the Japanese economy on the blink of collapse with 80 trillion yen in debt, government bureaucrat Shimokawaji (Hiroshi Abe) conjures the crazy idea of going back in time to 1990 in an attempt to prevent Japan's financial collapse. Luckily, Shimokawaji's ex-lover Mariko (Hiroko Yakushimaru) has a created one of the most unusual time machines; a DeLorean-esque washing machine, transporting anyone who dons a wetsuit and climbs into the drum some twenty years back in time. Having lost Mariko somewhere in the past, Mariko's daughter (Ryoko Hirosue), a ditzy bar hostess, spins back to 1990 to the height of the bubble economy, teaming up with a 17 years younger Shimokawaji to look for her mother and prevent Japan's 'bubble' economy from bursting
Yasuo Baba's 2007 time-travel comedy is a hilarious satire of bubble-era Japan, filled with nostalgic gags, retro fashion and music, guaranteed to lift your spirits and cast away any recession blues!
Director: Yasuo Baba
Ryoko Hirosue, Hiroshi Abe, Hiroko Yakushimaru, Kazue Fukiishi
2007/116min/English subtitles