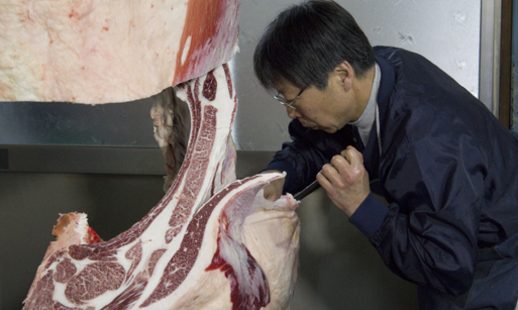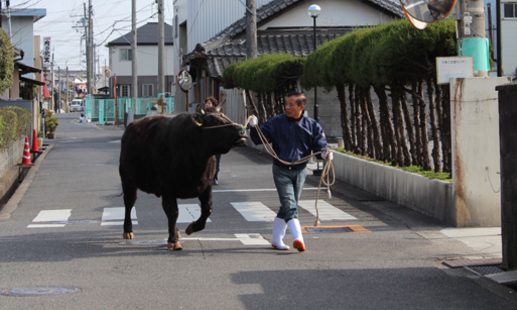 Tale of a Butcher Shop
ある精肉店のはなし (Aru seinikuten no hanashi)
An award-winning documentary about the Kitades and their family-run butcher shop in Kaizuka City (outside Osaka), where they have been raising and slaughtering cattle, and selling their meat in their small shop for over 100 years. Aya Hanabusa's touching documentary follows the family upon their decision to shut down their long-running slaughterhouse and looks at how the three butcher siblings have devoted their lives to the trade.
Containing unflinching scenes of animal slaughter, the film reveals the intricate, old-fashioned and reverential procedures the family follow in processing the meat. The seventh generation of their family's business, the Kitades are descendants of the Buraku people, a social minority in Japan who are still subject to discrimination today and Hanabusa's film touches upon the family's continuing struggle to make their living despite the persistence of ancient prejudices.
Warning: Some scenes that show the slaughtering process may be disturbing for viewers.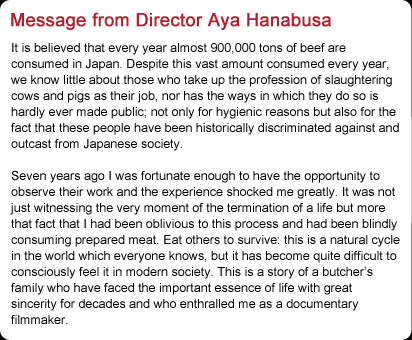 大阪で精肉業を営む一家の日常を捉えたドキュメンタリー映画。普段はあまり社会の表舞台には出てこない屠と畜ちくの現場を淡々と映し出していく。長年働いてきた屠場の閉鎖が決定したことから、その歴史を記録に残したいとの思いを抱いた一家を映像作家の纐纈あや監督が取材。家業を継いで7代目となる兄弟一家の暮らしぶりと、被差別部落出身の父がその兄弟に与えた影響を追う。
監督: 纐纈あや
Distributor: Pole Pole Times
Director: Aya Hanabusa
2013, 109mins, English subtitles