How to Watch
How to Watch Films as part of the Japan Foundation Touring Film Programme 2021 Online Special
<映画ご鑑賞方法>
For the full screening schedule, please see: JFTFP21 Screening Schedule
Pre-booking starts from 9 February
Please note: Due to security restrictions, films may not be viewed using the Google Chrome browser. We recommend viewing on the Safari Browser for Mac OS or Microsoft Edge for Windows 10 (version 1903 or later) Playback via iPhone or iPad should also work. You can download these browsers easily online.
・お申込は2月9日から随時可能です。
・視聴できるブラウザが限定されています。Macの場合はSafariブラウザ、Microsoftの場合はEdgeブラウザでのご視聴をおすすめします。
1. Visit our streaming page: onlinecinema.jpf-film.org.uk
Check out our digital cinema player and browse through our selection of some of Japan's most recent releases. Most of the films are receiving their UK premieres as part of this programme. The best part? You can watch them all for free!
2. Create an account
Registration is quick and simple. All you need to do is provide your name and email address.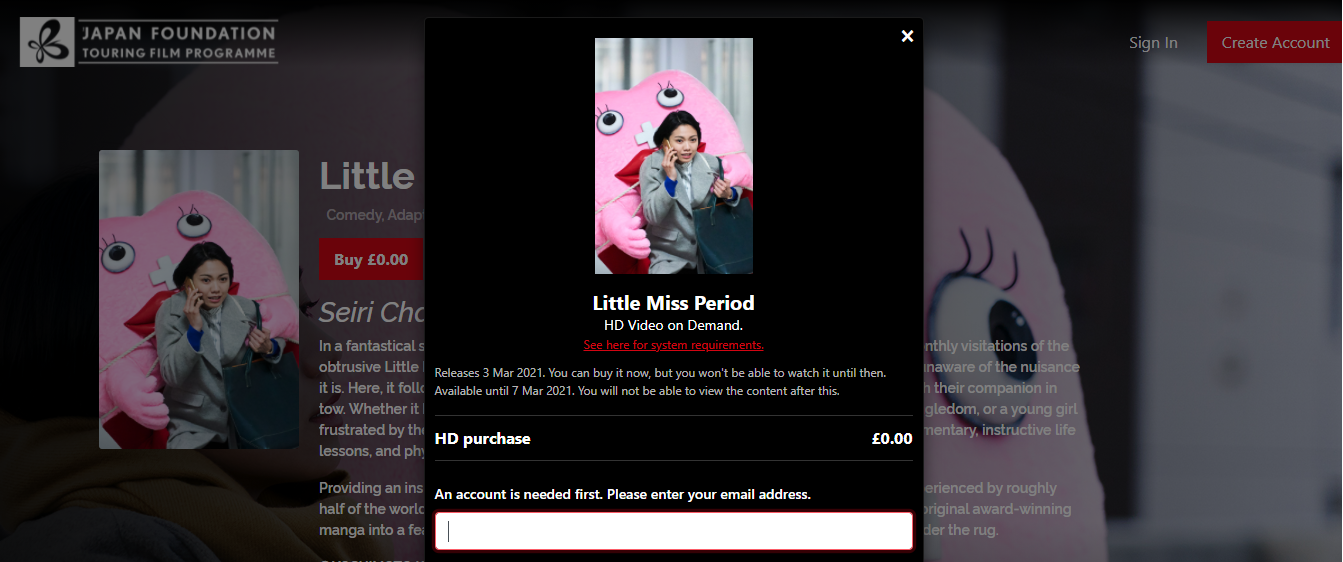 3. Rental and playback windows
Films are available for 48 or 72 hours from the scheduled starting time (you will be notified how long you have to view each film when you book). This is the rental window. You will no longer be able to view films when they reach their rental expiration limit.
Once you've clicked play, a playback window is triggered within which you will have 4 hours to complete viewing the film.
・視聴可能な時間は、上映スケジュールに記載の日にち/時間から48時間以内です(繰り返し上映のない作品は72時間以内)。その期間内に視聴開始ボタン(play)を押してご鑑賞ください。それを過ぎますと視聴できません。また、一度視聴開始しましたらどの作品も4時間以内に視聴し終わってください。
4. Enjoy!
Book on to view the films of your choice, sit back, and enjoy the taste of Japanese cinema in the comfort of your own home.
<Important Points to Note>
1. Piracy
Copying (including screen recording through your devices) and downloading film materials from this website are illegal and a criminal offence. Due to the enabled security features, if you try to illegally copy or download any materials, you will be identified and potentially prosecuted.  Also, you will severely undermine the practices of the Japan Foundation Touring Film Programme and film right holders.
2. Personal data
When you sign up to watch films, your information will be kept on the SHIFT72 platform and the Japan Foundation will use your e-mail address in order to send you reminders of the streaming information and feedback forms.
If you have any questions about data protection, please contact: [email protected]
Please also read the Frequently Asked Questions.
FAQs
Frequently Asked Questions
HOW TO ENJOY THE PROGRAMME
Q. Do I have to register?
Yes, you are required to create an account and sign in to watch films.
Q. Can I book to watch multiple films or the entire line-up?
Yes, you can but please book responsibly. Choose the films you can watch rather than the ones you might want to watch speculatively.  Each film has a streaming limit which caps the number of sign ups to each screening. If you sign up but don't watch a film, it will still be counted towards the streaming limit and take away another potential viewer's ability to see the same film.
 Q. Is there an age limit for watching the films?
The age restriction of most of the films in the line-up is a recommendation only and has not been certified in the UK. Please familiarise yourself with the content warning for each film by hovering your mouse over the rating on the film page. Some films contain strong language, scenes that are sexual and violent in nature, etc. which may not be suitable for younger viewers. Parental guidance is advised and we recommend that children under 13 should not view the films unattended.
Q. My film ends after the next film is scheduled to start. Can I watch both?
Yes. There is a rental window (48 or 72 hours) that allows you to click "play" from the scheduled screening time, so don't worry! Finish the first film then go to the next one!
Q. Can I stop the film I am watching and restart at a later time?
Yes, you can as long as it is within the 4 hour playback time. You can stop to make a cup of tea and come back to watch or skip/rewind the film, as long as it is within the 4 hours.
Q. When I try to view a film, I encounter a 'Not available in your country' message. Can I still watch films?
Streaming is only available for people who are in the UK throughout the duration of the programme.
Q. Can I watch with subtitles?
If subtitles don't immediately appear, click "CC" on the Player to enable the English subtitles.
Q. How can I fix delayed subtitles?
Please reload or try another browser.
Q. Who is the Organizer?
The Japan Foundation Touring Film Programme 2021 – Online Special is organized by The Japan Foundation, London. For more details on the Japan Foundation, London events and activities, please visit www.jpf.org.uk. Also you can view details of our past Touring Film Programme editions by clicking Archive at the top of this page.
Q. I have a different question.
If this FAQ hasn't satisfactorily answered your question, please e-mail [email protected] with your query. However, please note that due to the volume of emails we receive, it may take some time to get back to you.