Welcome to the Japan Foundation Touring Film Programme news page, where we will be posting news, events and all things related to Japanese cinema.
If you would like your news item or event to be posted, please contact

info@jpf.org.uk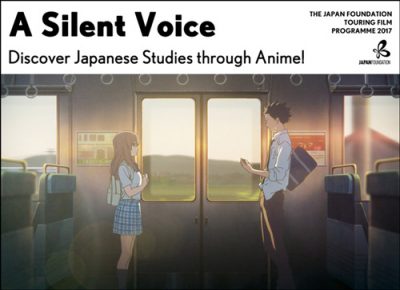 A Silent Voice - Discover Japanese Studies through Anime at HOME, Manchester
Sunday 26 February 2017, 12:00am
Venue: Cinema Foyer (2nd Floor), HOME, Manchester, M15 4FN
Attend the Japan Foundation Touring Film Programme screening of the emotional and beautifully animated school anime 'A Silent Voice' at HOME, Manchester, and discover opportunities to study Japanese Studies and Japanese Language in the UK through fun activities inspired by the film.
Before or after attending  the screening of 'A Silent Voice' come to visit the 'Discover Japanese Studies' booth in the cinema foyer where you will have the opportunity to get advice from current students and graduates about studying Japanese at university  and try your hand at a Japanese language taster.
All visitors to the Discover Japanese Studies booth will enter our free prize draw to win a selection of Japanese study resources to further their studies!
Discover Japanese Studies Booth in Cinema Foyer: from 4.30pm – 8.30pm
Screening of 'A Silent Voice' (12A) at HOME, Manchester: 5.40pm
Event Booking: Ticketed screening with concessions available. See HOME website to book tickets.
Related event:  A level and GCSE students may also be interested in attending the  'Sixth Form and GCSE Students' Japan Day' which will be held at the University of Manchester on Friday 31 March 2017 by the Japan Society and the University of Manchester.
Posted on: 14 February 2017
No festivals or screenings to display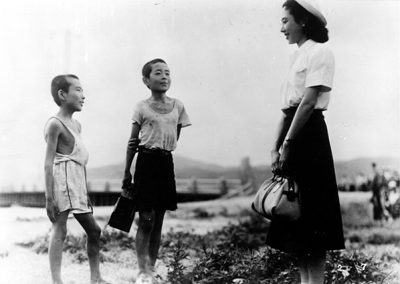 Talk: War, work and witnessing: aesthetics and ideology in Kaneto Shindo's cinema
Wednesday 25 January 2017, from 5:00pm to 7:00pm
Speaker: Dr Lauri Kitsnik
Chair: Dr Marcos Centeno
Kaneto Shindo (1912-2012) was a prolific Japanese film director noted for works such as Children of Hiroshima (1952), The Naked Island (1960) and Onibaba (1964). He maintained an active and uninterrupted career for over seventy years, perhaps the longest in the entire cinematic history. His films have been both praised and criticised for their strong leftist agenda when dealing with social issues such as crime, poverty, disease and discrimination. However, there is currently a lack of consensus as to whether his work displays enough thematic or stylistic unity to be evaluated in auteurist terms. In this talk, by looking at Shindō's films from different decades, I argue that his visual style underlined by excessive repetition effectively created a self-referencial system of cumulative images which offers insights into his worldview in both aesthetic and ideological terms.
Venue: Room G3, SOAS, University of London
Posted on: 19 January 2017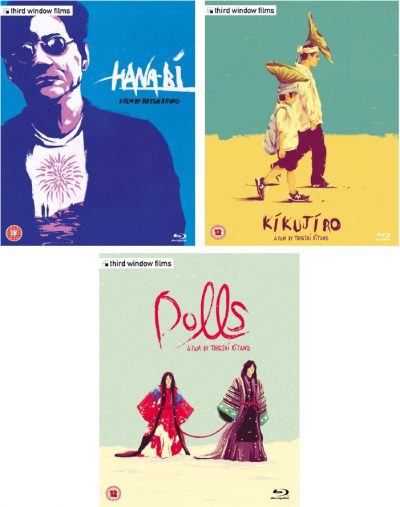 3 films from Takeshi Kitano:
Hana-bi / Kikujiro / Dolls
Third Window Films has announced the blu-ray release of three Takeshi Kitano films, all of which feature new 2k remasters from Office Kitano and a variety of exclusive special features:
Hana-bi (11 January 2016)
Former Police officer Nishi feels responsible for the shattered lives of his loved ones. His partner Horibe has been crippled in a disastrous stakeout, a colleague is shot dead by the same villain, and his own wife has a terminal illness. In debt to a yakuza loanshark, Nishi conceives a bank robbery to provide for his partner, help the dead cop's widow, and take one last holiday throughout Japan with his wife and share a final taste of happiness…
Kikujiro (22 February 2016)
It's summer and little Masao has no one to play with. With soccer practice suspended and his friends away at the beach, living alone with his grandmother seems even less fun for a nine-year-old boy. With address and photo in hand, Masao decides to take off in search of the mother he's never met. But with little money and even less sense of direction, Masao can't go alone. A friend of his grandmother volunteers her husband to accompany the boy on his quest.
Dolls (14 March 2016)
Three stories of undying love: Bound by a long red cord, a young couple wanders in search of something they have forgotten. An aging yakuza returns to the park where he used to meet his long-lost girlfriend. A disfigured pop star confronts the phenomenal devotion of her biggest fan.

For more information, please visit: http://thirdwindowfilms.com/
Posted on: 18 January 2016
ASFF - Call for Entries!
Entries are open for the 6th edition of the BAFTA Qualifying Aesthetica Short Film Festival, one of the UK's leading short film festivals and most exciting cinematic events. ASFF celebrates innovation and excellence in filmmaking and presents many opportunities for industry engagement.
In 2015, ASFF attracted 20,000 admissions across the four day event including industry, filmmakers and thousands of festival-goers providing a dynamic platform for emerging and established filmmakers to showcase their work to a wider, international audience. All genres are accepted, from drama to documentary and artists' film to music video.
For more details please visit: www.asff.co.uk/submit
Posted on: 3 December 2015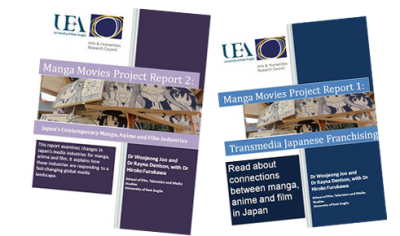 Manga Movies Project Report
Dr Woojeong Joo, Dr Rayna Denison and Dr Hiroko Furukawa of the School of Film, Television and Media Studies at the University of East Anglia have launched the new report Manga Movies Project Report – Japan's Contemporary Manga, Anime and Film Industries. The report follows on from themes and issues discussed in Dr Rayna Denison's lecture as part of the 2012 Japanese Cinema for Busy People seminar series at the Japan Foundation, and is about how Japanese manga, anime and film are becoming parts of huge multi-media franchises in Japan.
The report, and the prior report Transmedia Japanese Franchising, can be found online at: http://www.mangamoviesproject.com/publications

Posted on: 1 July 2013