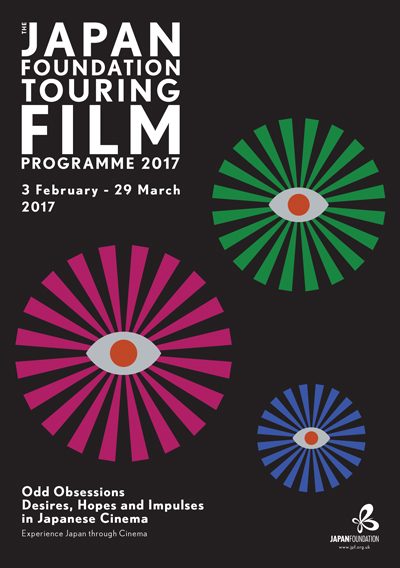 JFTFP17: That's a wrap!
The Japan Foundation Touring Film Programme 2017: Odd Obsessions: Desires, Hopes and Impulses in Japanese Cinema
#JFTFP17
3 February – 29 March 2017
Following 103 screenings nationwide over a two month period, the largest ever Japan Foundation Touring Film Programme drew to a close in late March. Featuring 14 titles, ranging from contemporary films, classics, documentary and anime, the programme toured to 15 venues around the country, including new venues in Stirling (Macrobert Arts Centre) and Inverness (Eden Court).
This year we also welcomed three very special guests, Naotaro Endo (director of Tsukiji Wonderland), Daishi Matsunaga (Pieta in the Toilet) and Shuichi Okita (The Mohican Home Comes), all of whom took part in post-screening discussions of their films in London and around the UK.
Below are some of this year's highlights:

Director Daishi Matsunaga visited the UK to attend screenings of his debut feature film Pieta in the Toilet. In addition to appearing at the film's UK premiere at ICA, Matsunaga also travelled to Watershed in Bristol, Showroom Cinema in Sheffield and Quad in Derby.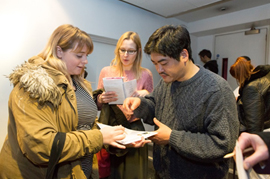 Another of the 9 UK premieres shown as part of the season was Shuichi Okita's latest film The Mohican Comes Home. Two of Okita's films have been released in the UK (Woodsman and the Rain and The Story of Yonosuke) and his fans turned out in numbers for the screening at the ICA!
Okita also attended screenings of The Mohican Comes Home at the Queen's Film Theatre in Belfast and Exeter Phoenix.
And then in March, we were joined by Naotaro Endo, director of the season's featured documentary, Tsukiji Wonderland.  Following the film's sell-out screening at ICA, London in February, Endo joined us for an exclusive 'Filmmaker Talk' at the Soho Hotel in London, before embarking on a tour around the UK, attending screenings in Broadway in Nottingham, Filmhouse in Edinburgh and Exeter Phoenix.

Thank you to everyone who attended the Japan Foundation Touring Film Programme this February and March! We look forward to seeing you again at the 15th edition in 2018!
Revisit the Japan Foundation Touring Film Programme 2017 on Twitter:
https://twitter.com/jpflondon/status/852117718794948608
Posted on: 30 March 2017
No festivals or screenings to display
No events or talks to display
No new releases to display